Best Camera app for Android
Do you want the default camera app on your Android device? Are you looking for innovative and feature-rich camera apps to take your photography to the next level? You've come to the right place! In this article, we'll explore the top 10 camera apps for Android that can revolutionize your photography experience. Whether you're a professional photographer or an amateur enthusiast, these apps offer many exciting features and functionalities. Let's dive in and discover the best camera apps that Android has to offer!
Google Camera: Capture Moments with Precision
Google Camera, developed by the tech giant itself, is a highly acclaimed camera app for Android. It comes pre-installed on Google Pixel devices and offers exceptional image quality. With its HDR+ mode, you can capture stunning photos in various lighting conditions. The app also includes features like Night Sight, Portrait Mode, and Lens Blur, which allow you to experiment with depth and add artistic effects to your shots.
Open Camera: Customize Your Shooting Experience
Open Camera is a free, open-source camera app with extensive manual controls. It allows you to manually adjust settings like ISO, exposure, white balance, and focus. With its on-screen histogram, you can monitor the exposure levels and ensure perfectly balanced photos. Open Camera also supports remote control options, such as using a Bluetooth remote or headset to capture shots.
Camera FV-5: DSLR-like Controls at Your Fingertips
If you're seeking DSLR-like controls on your Android device, Camera FV-5 is the perfect choice. This feature-packed app offers manual control over shutter speed, ISO, focus, and exposure compensation. You can even shoot in RAW format for maximum flexibility during post-processing. Camera FV-5 includes time-lapse, intervalometer, and prolonged exposure to creative photography techniques.
ProCam X: Professional Camera for Pro-Level Results
ProCam X is a powerful camera app that caters to professional photographers and enthusiasts alike. It offers manual controls, including ISO, shutter speed, focus, and white balance. The app supports RAW capture and provides real-time histograms and levels for precise exposure monitoring. ProCam X includes advanced features like burst mode, slow-motion video recording, and light trail photography.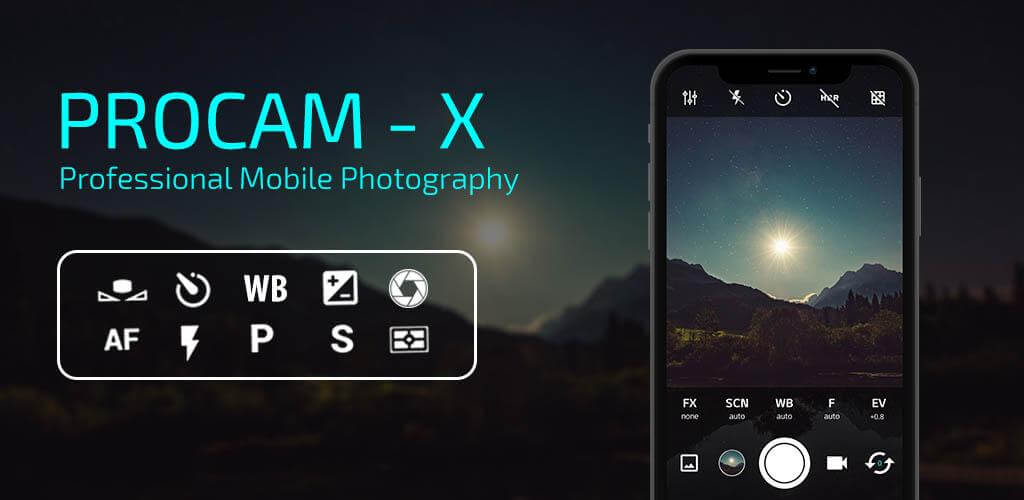 Adobe Lightroom: Capture, Edit, and Share in One Place
Adobe Lightroom is not just a camera app but a comprehensive photography solution. Along with capturing stunning photos, you can edit and enhance them using a wide range of professional editing tools. The app allows you to apply presets, adjust exposure, color, and tone, and even remove unwanted objects from your photos. With its built-in social sharing features, you can instantly showcase your work to the world.
VSCO: Unlock Your Creativity with Filters and Presets
VSCO is a popular camera app known for its impressive filter and preset collection. It offers various artistic effects that can transform your photos into stunning visual masterpieces. VSCO also includes advanced editing tools, allowing you to fine-tune the details of your images. The app has a thriving community where you can discover inspiring photography and share your creations.
Camera MX: Add Fun Effects and Live Shots to Your Photos
Camera MX is a feature-rich camera app offering many creative options. It includes live shot mode, which captures a short video clip along with your photo, adding life to your memories. The app also provides a variety of fun effects, filters, and stickers to enhance your photos. Camera MX supports manual controls, allowing you to adjust the aperture, exposure, and focus to achieve the desired look. It also offers a built-in photo and video editor, enabling you to enhance your captures without switching between different apps.
Cymera: Perfect Selfies and Beauty Filters
If you're a fan of taking selfies, Cymera is the camera app for you. It specializes in portrait photography and offers a range of beauty filters and editing tools to enhance self-portraits. From skin smoothing and blemish removal to adding makeup effects and reshaping features, Cymera provides everything you need to look your best in every shot. The app also includes various camera modes, such as AR stickers and collages, for added fun and creativity.
Camera360: AI-powered Camera with Real-time Effects
Camera360 is an AI-powered app that brings real-time effects and filters to your Android device. It uses intelligent algorithms to detect scenes and apply appropriate enhancements automatically. With its AR camera, you can try out fun and interactive augmented reality effects in real-time. Camera360 also offers a range of editing tools and filters to enhance your photos and make them stand out.
ProShot: Professional-Quality Control in Your Hands
ProShot is a feature-packed camera app that puts professional-quality control in your hands. It offers manual control over parameters like ISO, shutter speed, white balance, and focus. With its live histogram and level tools, you can ensure accurate exposure and composition in real-time. ProShot also supports RAW capture and includes advanced features like time-lapse, burst mode, and focus peaking for precise focusing.
Conclusion
With the availability of these top-notch camera apps for Android, you can unlock a world of creative possibilities and take your photography skills to new heights. Whether you're interested in manual controls, artistic effects, or professional editing tools, a camera app is on this list to suit your needs. So, why settle for the default camera app when you can explore the diverse range of features and functionalities offered by these ten camera apps for Android?
FAQs (Frequently Asked Questions)
Q1: Are these camera apps free to download and use?
Yes, most camera apps mentioned in this article are accessible on the Google Play Store. However, some apps may offer additional premium features through in-app purchases
Q2: Can I use these camera apps on any Android device? 
Yes, these camera apps are compatible with various Android devices. However, certain advanced features may require specific hardware capabilities, so checking the app's compatibility with your device before downloading is essential.
Q3: Do these camera apps support shooting in RAW format?
Several camera apps mentioned in this article, such as Camera FV-5, ProCam X, and ProShot, support RAW capture. Shooting in RAW gives you more flexibility and control during the post-processing stage.
Q4: Can I edit my photos within these camera apps?
Yes, many camera apps have built-in photo editing tools that allow you to enhance and adjust your photos without switching to a separate editing app. Adobe Lightroom and VSCO are mainly known for their comprehensive editing capabilities.
Q5: Are these camera apps beginner-friendly?
While some camera apps offer advanced manual controls, they also provide user-friendly interfaces and intuitive features suitable for beginners. Additionally, various tutorials and guides are available online to help you get started with these apps.
Q6: Are there any privacy concerns with using third-party camera apps?
 It's always important to download apps from trusted sources like the Google Play Store to minimize the risk of privacy concerns. Additionally, ensure that you grant necessary permissions to the camera app while using it and review its privacy policy for a better understanding of data usage.